Golden sand, never-ending beaches, warm enough weather to wear shorts and a t-shirt – what's not to like about being on the Gold Coast!
Sadly for us, we spent our 2 days mostly inside a monstrous convention centre, but it was well worthwhile all the same.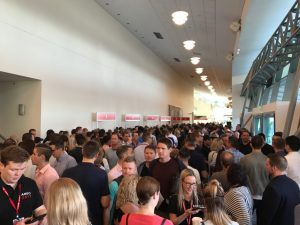 For anyone who hasn't been before, AREC is the pinnacle of real estate conferences, especially in this part of the world. Imagine 4,500 agents collected in one room. I didn't know that many oversized ego's could fit in one building! Aside from all the juiced-up dudes wearing white pants, far too much hair product and ridiculously tight shirts, it was obvious this was the cream of the crop, the best of the best.
If you want to grow your real estate business, this is where you need to go.
A select few Aussies, Kiwi's and Americans were chosen to jump into the limelight and present their best ideas on stage. What follows is a quick review of each speaker, including a list of their most memorable takeaways (for me anyway) along with links to where you can find more information.
4 over-riding themes:
Don't be a dick-head. Don't chase quick money. You are building a business, not 1 pay-cheque.
Have an ideal day & schedule it (prospecting in the morning, appointments in the afternoon)
Provide mind-blowing service to your favourite clients. Think long term, not short term.
You own a business, so act like it! Your success is up to you! No one else is going to hand it to you on a plate.
Now a lot of these tips are just one line notes that I wrote down, and you may have heard them all before, but don't forget that there is a big difference between having knowledge, and taking action.
Note: If you want to view the slides from every speaker, you can view them at this link. There is some absolute gold hidden in there. My personal favourite is slide number 154.
Let's get stuck in!
Scott Harris – The power of taking action.
Scott started us off with 5 minutes of name-dropping and 'check me out in this photo with Tony Robbins' moments which made a few people roll their eyes, but he actually had some great content too. Here are my top quotes or tips:
– Time is your most precious resource
– Most ppl in life are amateurs, they're fucking around
– Your brain is designed to survive, not to be successful
– When ppl are overwhelmed, they don't produce their best performance
– Check your last 3 months of credit card statements and calendar. Where are you spending your money and your time
– Are you focussing on too many things? If you're doing something half assed, stop it. Have 3 or 4 things and do them properly.
– Whatever you do, play FULL OUT
– Its in your moments of decision that your destiny is shaped
– Everyone makes 280-320 decisions a day. Its the small ones that all add up. Why do you think Steve Jobs wore the same clothes every day? So he could save his mental energy for more important decisions that needed his full attention.
– Where to spend your time? Are you allocating it wisely? Efficiently? 3 month plan, 6 month plan etc.
– Where is your money going? Is it producing results
– Where is your focus? Your brain can only make so many decisions before it gets tired.
The system / filter to decide use of the above is your VALUES. Have 3-5 filters for your life. Who are you as a person. What do you stand for? If you get stuck this will help you make the 3 decisions above.
Matt Lancashire – The road to number 1 is the worst best kept secret.
I liked Matt a lot, his message revolved around the need for all of us to stop chasing 'quick money' and take a long term approach in all our interactions with clients. This was an over-riding theme of the entire conference. A commonality amongst all the speakers. They considered the lifetime value of every client, not just whether they were going to buy a house in the next 5 minutes.
Melita Bell – Super agent, super mum
Her key message was to figure out who your top 10 referrers are (your advocates) and worship them, spoil them, look after them as much as you can. Also, like all speakers she talked a lot about finding and articulating your 'why'. What is your reason for succeeding? Melita's was her Son. She went from being close to bankruptcy, to becoming one of Australia's top agents in the space of a few short years.
Robert Cialdini – Universal master of persuasion
When looking at the title of Robert's talk I thought 'here we go' some douche-bag who is going to talk about manipulating clients and making people do things they don't want to do. I hate that crap. Persuasion as a word has fairly negative connotations and I think we should be careful about using it.
All that aside however, Robert was actually fantastic. By the end of the conference he was one of my favourite speakers. I referred to him constantly in conversations following the event.
When ppl are uncertain they step back, they can't buy in to what you are selling.
– Reciprocity
– Commitment / consistency
– Liking / rapport
– Scarcity
– Consensus
– Authority
In the context of obligation, ppl say yes.
Find ways to give first before asking for a signature
Say to all appts: WILL YOU call if you have to change or cancel your appt? Will you be able to join me then? Dont say PLEASE CALL. Ppl want to live up to what they commit to publicly (and verbally).
Instant rapport comes from similarities and compliments.
Find the reasons to like your customers. Look for the good in everyone.
Whats uncommon about what you are providing?
Find a 3rd party to validate your authority – who are your mutual friends on fbook? Who do you know that knows that person.
Divulge a weakness early before going into strengths – establish trustworthiness.
Bob Wolff: 8 strategies to achieve superstar success
Charles Touma: Prospecting is a sport
– As a new agent, focus on buyer work, product knowledge, and prospecting. That's it!
David Ding: Why always me?
In the short time I have known David I can see why he is so successful. David has a calm, approachable, professional manner which I can imagine clients warm to instantly.
Cherie Humel: 360 degree agent
To be honest I didn't write down any notes. Cherie's talk was all about Cherie, and about half the people in the auditorium left before it was over. She seemed like an impressive lady (she certainly told us she was, anyway). There is always 1 speaker like this at every conference. I hope she never reads this 🙂
Gary Vaynerchuk
This was a video of an interview that Tom Panos had completed earlier. This guy was so wired and it was fun to watch.
The Michael Coombs Team
– Real estate is a sport like any other. One you can play for life.
Marcus Chiminello: Establish a powerful personal business.
Leonard Steinberg: The gentlemans guide to NY back-stabbing brokerage.
Henry Mason: Trendwatching
Josh Hart: Agent 4.0
Arabella Hooper
One note only: What's your weekly balance strategy?
Nigel Dalton: Robots in real estate
Chris Voss: FBI negotiation secrets for success.
Chris was one of my favourite speakers. He just exuded calmness.
Nicholas Heaton: Prospecting with no cold calls…
One note only: Service your buyers and sellers to a level your competitors don't (or won't).
Ashley Weston: Structure brings Success
– Don't be a dickhead.
– Think long term.
– Treat clients you get along with like the absolute gold that they area.
– Work frigging hard and keep in touch with as many people as you possible can.
Give, give, give without expectation. Help as many people as you possibly can and it will all come back to you in the long run.
Oh… and come to AREC next year!
I look forward to seeing you there.