Good old Wellington, with it's slow & steady real estate market that sets us apart from the rest of the Country. We don't have the big ups and downs of Auckland but we truck along quietly in the background with house prices that seem to show so much promise but deliver so little capital gain (over the last 7 years at least).
I started in real estate in 2007 when the market was really moving. It felt like if you didn't buy at that time, the prices would be 5-10% higher 6 months later – and everybody bought into the hype and said "Prices won't drop".
Then in 2008 the global financial crisis hit and everything went South. North Wellington was one of the least-affected areas though with sale prices dropping around 5-10% at most. Since then the market has slowly recovered that loss (over 7 years) and crept along slowly, barely keeping up with the rate of inflation while the other main centres experience a massive surge in prices – Christchurch due to a massive supply shortage after the quake and Auckland largely due to huge net migration numbers.
I regularly speak to Aucklanders who tell me things like: "My property went up in value $700k last year" (in my mind I'm thinking: "what a jerk"). Meanwhile I get excited about a home in Newlands that sells for $60k more than it did 6 years ago #winning.
A number of Wellington property owners I have worked with during the last few years have ended up selling, out of what simply seemed like boredom at the lack of capital growth on offer in our fair City.
So when will Wellington property prices start moving again? When will the Council need to start doing RV updates every year again just to keep up with values in the area? (Those were the days!)
Before I give my answer let me just say this: I know us real estate professionals are like a broken record. If I had a dollar for every time I had a flyer in my letterbox telling me "It's a great time to sell!!!!" (complete with 4 exclamation marks) I would be a rich man. We constantly talk about how great the market is even when we can't give houses away, so why would you believe what we say anyway? It's a fair point so I'm going to bring in some external help to make my case, maybe even throw in a few charts to make you feel better 🙂
Are we about to see double digit capital growth each year in Wellington?
In my humble opinion, yes. In fact I believe the boom market has already begun.
According to Stats provided by the Real Estate Institute of NZ, the current median sale price in Northern Wellington is $480k, up 5% in 12 months and up 35% over the past 10 years. 5% is respectable but this certainly isn't going to lead to house prices doubling every 10 years (like they supposedly have done since the Magna Carta was signed in 1215).
The only problem with these stats and those provided by QV is always the lag time. They are based on sales which happened months ago (it is my understanding that QV stats are based on settled sales and it can take 3/4 months for settlement to occur after a price is actually agreed). In real estate we always talk about what is happening at the 'coalface'. What are the sales that are occurring today, yesterday, last week and what can they tell us about the market?
Note: You won't find these in any newspaper article or property magazine so always remember anything you read in the Dom Post is a few months old before it even gets there.
Valuers call me every week to find out what has just sold because they know that these sales will tell them exactly what is happening in the market right now, not what happened 3 months ago.
Here is what I am seeing 'at the coalface'…
– Standard 60's, 3 bedroom, 1 bathroom houses in Newlands & Johnsonville that sold for $380 – 420k a few years ago are now consistently selling for $440 – 480k.
– Doer uppers in the same areas are now selling for $380 – 420k instead of $330 – 350k.
– The days of buying anything standalone under $350k in the Northern Suburbs appear to be over.
– Modern homes with double glazing are starting at around $550k (for 3 bedrooms & 1-2 bathrooms) if you can find them.
– Spacious 4 bedroom homes in Johnsonville are now regularly selling over $600k. This was unheard of 2-3 years ago.
– A flat section in Johnsonville (545sqm) sold earlier this year for over $300k. That's just the land.
– Current RV's are now 14 – 15% too low on average depending on which area you are looking at and a number of properties have sold 30 – 40% over their RV's in the last 6 months.
You won't hear about these sales in the paper but this is what has been happening over the last 6 months.
What's causing this jump in prices you ask?
1. Kiwisaver
Young couples are now finding they have $30 – 60k between them when they combine their kiwisaver accounts and it starts burning a hole in their pockets. Young people are terrible at saving at the best of times so when you tell them they have $60k in the bank and they can either spend it right now on a house (the kiwi dream) or forget about it until they are 65, guess which option they are going to choose? When you add in the home start grant (adding $5 – 10k for buyers up to $450k) there are suddenly so many more young first home buyers out there who would have struggled to save a 10-20% deposit any other way.
2. Shortage of property on the market
The lack of new, smaller, single level homes available to suit retiring couples is seriously affecting our real estate market. There are thousands of empty-nesters stuck in cold, old damp homes all around Wellington with very little money to spare to do them up, and nowhere to move to. They aren't ready for a retirement home yet but where can they find a decent, warm, single level newish home to buy? (without moving to Waikanae or further North – sorry, no offense intended to Waikanaeians). I recently wrote a post about this – check it out here.
3. Flow on effect from Auckland
All the old-timers in our office tell us that Wellington's real estate market always follows Auckland, and Auckland always follows Sydney. I can see the Auckland follows Sydney part taking effect but I'm still waiting for good old Wellington to jump on the bandwagon and do it's part.
4. Cost of living / lifestyle
As Auckland becomes more and more un-affordable more people will start moving to Wellington (or staying in Wellington). My wife moved down from Auckland a few years ago and was pleasantly surprised by the laid back feel of Wellington, the lack of traffic and the fact that people actually said hello to her in the Street. She still hates the Wind but hey, you can't have everything in life!
Now it's time to bring in the big-hitters…
According to this recent article by Collette Devlin, featured on Stuff, Wellington properties have been identified as having the best long-term value in the Country! How good is that???
("See babe, I knew we were right to stay in Wellington!")
In the same article, BNZ Chief Economist Tony Alexander was quoted as saying…
"If you gave me $10 million and said go forth and buy a bunch of houses you reckon will produce the best capital gains in the next five years, where would I look? I would sink it into Wellington, Hamilton, Tauranga and a bit in Nelson."
"The ability to buy a reasonably priced house to raise a family, the fact few head offices are planning to shoot north now, the coming long-term benefits of the Transmission Gully Motorway, IT sector, culture, runway lengthening and the film sector."
That's good enough for me. I have always been a big fan of Tony's work and he just went even further up in my books.
Now for a chart or 3 (for all you analytical ones out there)
On Tuesday last week I had the privilege of listening to Bernard Hickey (@bernardchickey) speak at the Harcourts Top 100 Forum in Queenstown. 3 charts he showed us caught my attention…
1. Net Migration numbers compared against Auckland house price growth: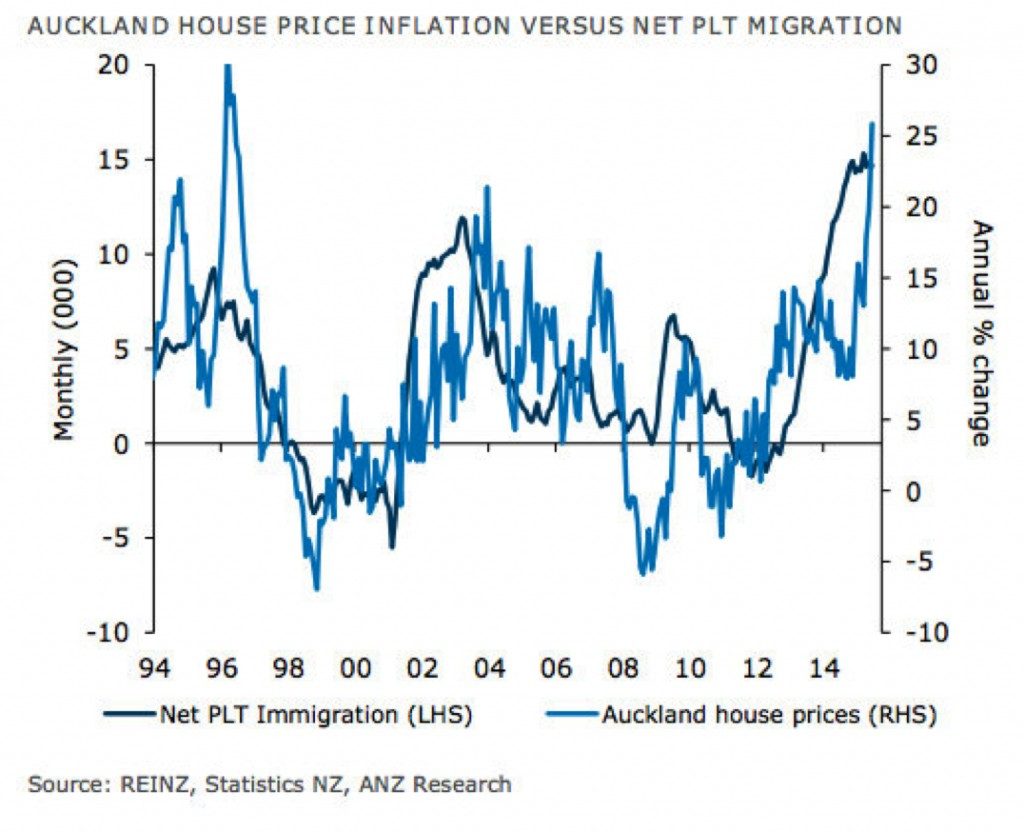 I know it's Auckland but looking at that chart it would appear to me that net migration appears to be a key factor in house price growth. According to Statistics NZ, in July 2015, seasonally adjusted figures showed a record net gain of 5,700 migrants!
And some of these people have a lot of money, which leads me to the next 2 charts Bernard showed us:
2. Overseas property investment in Australia
Note: We don't keep these figures in NZ for some strange reason so Australia is our best comparison…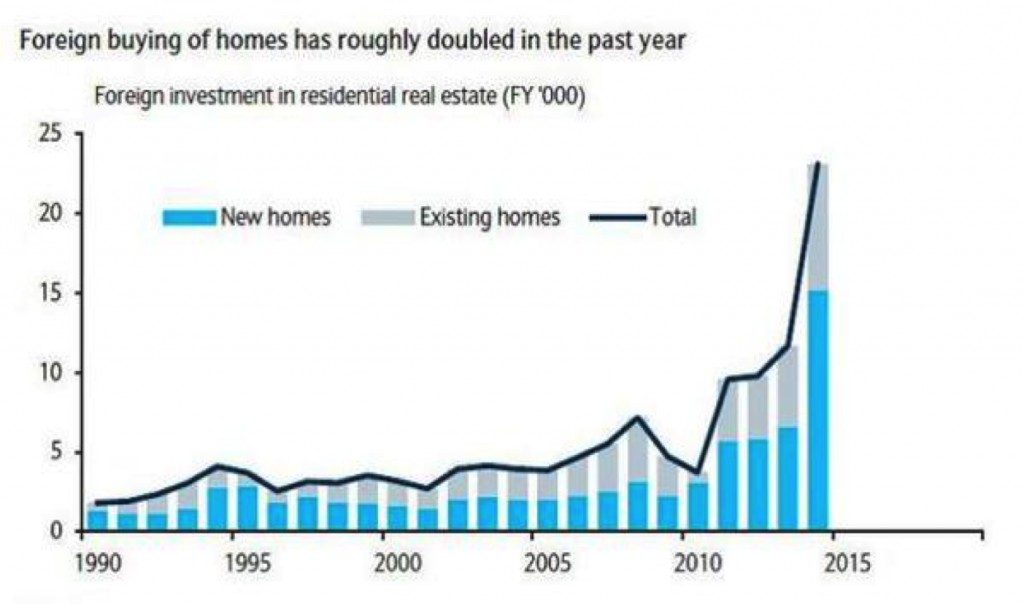 Damn, that is a big jump!
3. Bank Deposits in China.
People in China have loads of money in the bank and more and more of it is likely to come this way to buy assets (or just somewhere to say during those "clean-air destination holidays").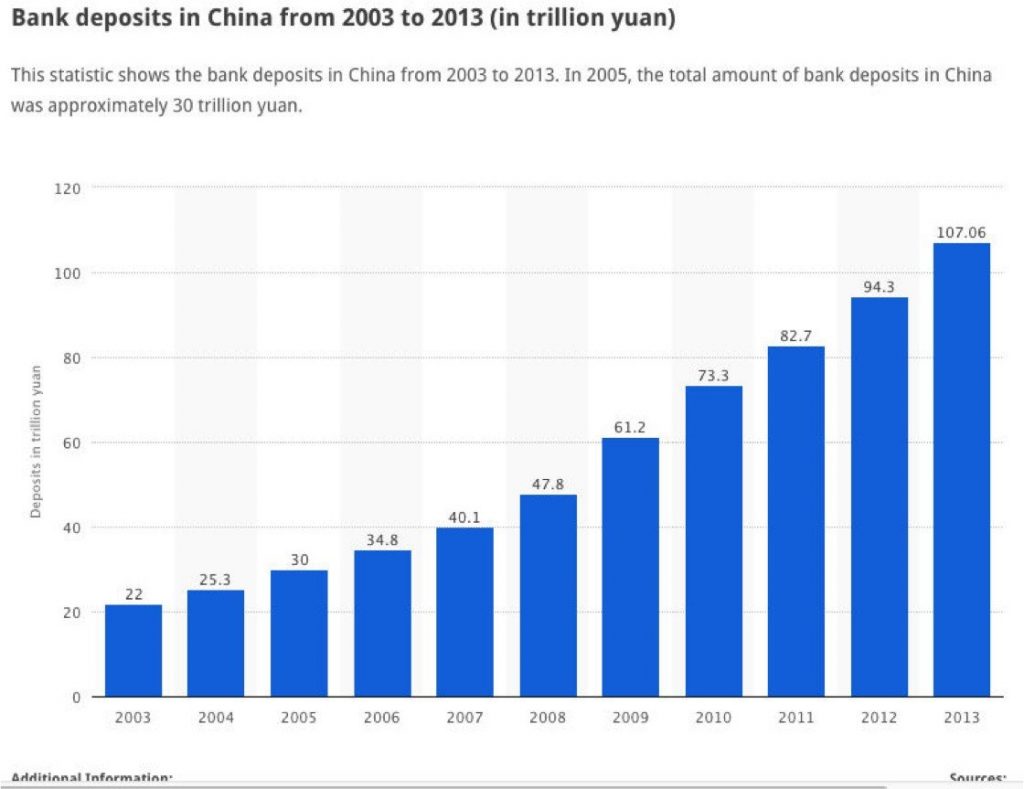 In conclusion…
New Zealand is a great place to live and the world is starting to catch on. Wellington is already feeling the flow on effects and this should continue for some time to come. Personally I am excited to see what happens to our local property market over the next 3-5 years. Fun times ahead!
————————————————–
THOUGHT OF THE WEEK:
Every morning you have two choices – continue to sleep with your dreams, or wake up and chase them.—————————————————