Leading up to the Election, a lot of focus was placed on how the kiwi dream of owning your own property is quickly becoming unaffordable (especially in Auckland). People kept asking how the government was going to help first home buyers into houses. Labour proposed "Kiwibuild", a system to build 10,000 new affordable houses for first home buyers and National promised an increase in the First Home Buyer Deposit Subsidy for new builds only. Both policies targeting first home buyers specifically.
I am firmly of the belief that neither solution is going to be the answer. The biggest unsatisfied group in New Zealand's real estate market is not first home buyers though and the biggest problem facing the real estate market today is not the shortage of suitable or affordable properties for these first home buyers.
There are plenty of ideal first homes, all over the country, in good suburbs, close to town, just waiting for an opportunity to come on the market. The problem is, these houses are currently occupied in large part by people from the baby boomer generation. A large portion of that demographic currently own 3-4 bedroom, 60's / 70's built houses. They no longer need the space they have because the kids have all grown up but they now have nowhere else to go.
These homes come with large sections that are quickly becoming a major burden and the owners often don't have the disposable income to install heatpumps, insulation or double glazing just when they need it most.
First home buyers are the ideal candidates to take over these largely well-built but cold properties and turn them into warm, energy efficient homes for years to come. These houses won't come on the market though until the owners have somewhere else to move to.
5 major reasons these owners are stuck in their houses, unable to move:
Problem 1: They can't make subject to sale offers.
In a reasonably seller focussed market these owners simply aren't able to compete with cash buyers. This means they are unable to get offers accepted subject to sale of their own house (which used to be very common 10-15 years ago). This leads to a very big problem…
Problem 2: The thought of selling with nowhere definite to go scares the crap out of them.
No one likes the thought of being homeless, or having to go and rent (or move in with family) when you have owned your own home for 20 / 30 or 40 years. This is a scary proposition for most people. So instead of selling and taking a punt that they will find another house in time, they stay put.
Problem 3: The massive shortage of single level accessible homes, reasonably close to the City.
The building industry has been purely focussed on building the biggest possible houses, on the smallest possible sections they can to generate as much profit from their developments as possible. This approach is understandable and any good business would operate the same way, but it creates a pile of new housing stock that will never suit people trying to down-size.
Problem 4: Apartments don't suit everybody.
Most empty nesters don't want to go and live in an apartment in town with a bunch of students, where your kitchen also happens to be half of your hallway. It seems like every new apartment building popping up is either designed for uni students, or the uber-rich. There is no middle ground anymore. Nothing that would suit my parents, anyway. The only ones that would suit, were built in the 90's and seem to fall into the "high-risk of being a leaky building" category. Not exactly my idea of a great investment.
These people want to stay in the area they know, in a modern, single level, accessibly home with enough room to entertain, have a bit of a garden and enjoy the sunshine when it comes out. Is that really too much to ask?
The problem is these houses are rare as hens teeth in our market, and when they do come up for sale the cashed up first home buyers snap them up because they are attractive homes and there is hardly anything else to buy!
Problem 5: It is a very expensive and not particularly attractive proposition to buy into a retirement home.
No one really wants to do this until they absolutely have to and the good ones are exorbitantly priced. Plus you are usually buying a "license to occupy" so you forgo all your rights to any future capital gains on the property. To me that doesn't sounds like a very exciting way to invest your money after you have spent your whole life working hard to pay off your mortgage. You can understand why people want to stay in their homes as long as possible.
Until this situation changes you are going to have people who are stuck in these less than ideal houses with nowhere to go until they are forced to move into a retirement home.
Until this situation changes I believe the number of houses selling in our market will stay at about half the volume we say in 2005 – 2007, as shown by the graph below….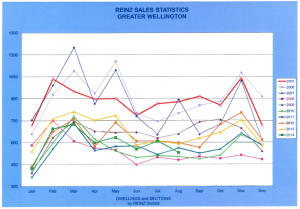 What's the solution? I'm not sure yet – maybe I will have it figured out in time for next weeks post!
I would love to hear your thoughts on this. Please comment below with any feedback you might have.
Best wishes till next time,
Andrew Duncan
————————————————–
THOUGHT OF THE WEEK:
"The greatest pleasure in life is doing what people say you cannot do."
—————————————————