Every month we analyse the stats and take a deep-dive look at the Wellington real estate market. Be sure to like our page on facebook to get tips, advice and updates as soon as they are released.
Please note: Figures below are generated from REINZ stats and 'Wellington City' covers Tawa to Seatoun and everything in between…
No need to overblow this small reduction…
The median sale price for non-apartment properties (houses, townhouses and units) dropped slightly in March to $728,750 (down from $744,373 in Feb).
That is still the 3rd highest median recorded in the last 12 months, and only the 5th time the median sale price has been over $700k.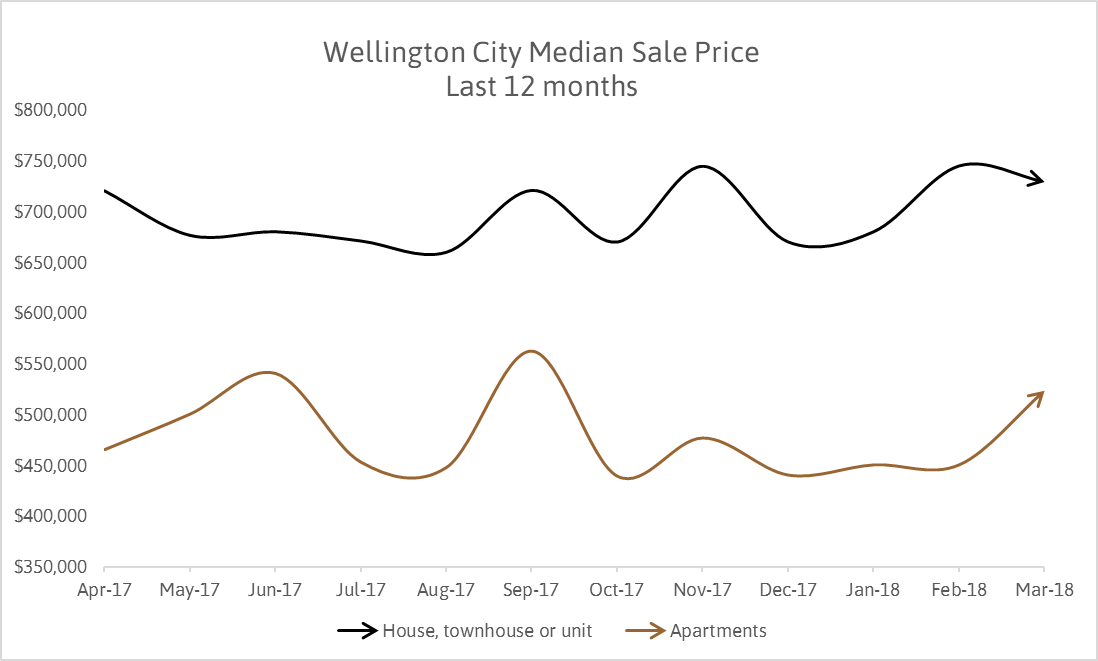 The median sale price for apartment properties was $523,000, up from $450,000 in Feb and only the 3rd time it has been over $500k in the last 12 months. This could have been the result of a few owners selling higher value apartments before the end of Summer to cash in on some capital gains before the bright line test timeframe was changed.
How many sales went through in March?
There were 344 sales in March (48 of those were apartments). Up from 325 in Feb but down from 378 last March. All in all, nothing too crazy and the sign of a pretty darn steady market. We haven't seen the massive sell-up from investors that many commentators would lead us to believe is coming.
Owning investment properties has worked far too well for many Wellingtonians and ring-fencing losses and extending the bright line test won't change that overnight. While I actually agree with both those changes, the real solution is a boring one – we need more houses.
If you own an investment property with a decent amount of land (that you could potentially subdivide), what is the biggest thing stopping you from developing your land? Red tape? Cost? Lending limitations? If you are in this position, please send me an email, I would love to hear your feedback.
Note: Only 71 of the properties available in Wellington City are standalone homes or townhouses that could sell under the $500k welcome home loan price cap for Wellington (down from 79 last month). So affordability is potentially getting worse, rather than better.
How accurate are Wellington Rateable Values?
Pretty consistent this month. The median % above RV for houses, townhouses and units went up 1 point to 46%. Meanwhile, apartments actually dropped 7 points to +32% over RV.
Note: We see more fluctuation in the apartment market due to the smaller sample size.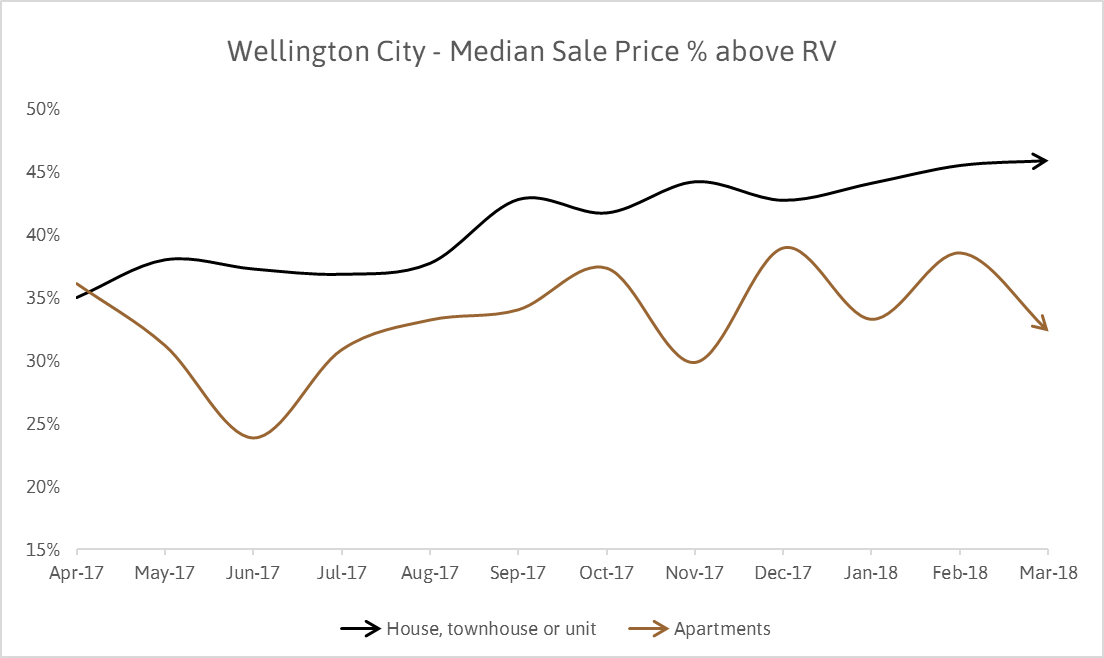 How long are properties taking to sell?
Median days to sell – Wellington City:
24 days for standalone homes, townhouses and units.
30 days for apartments.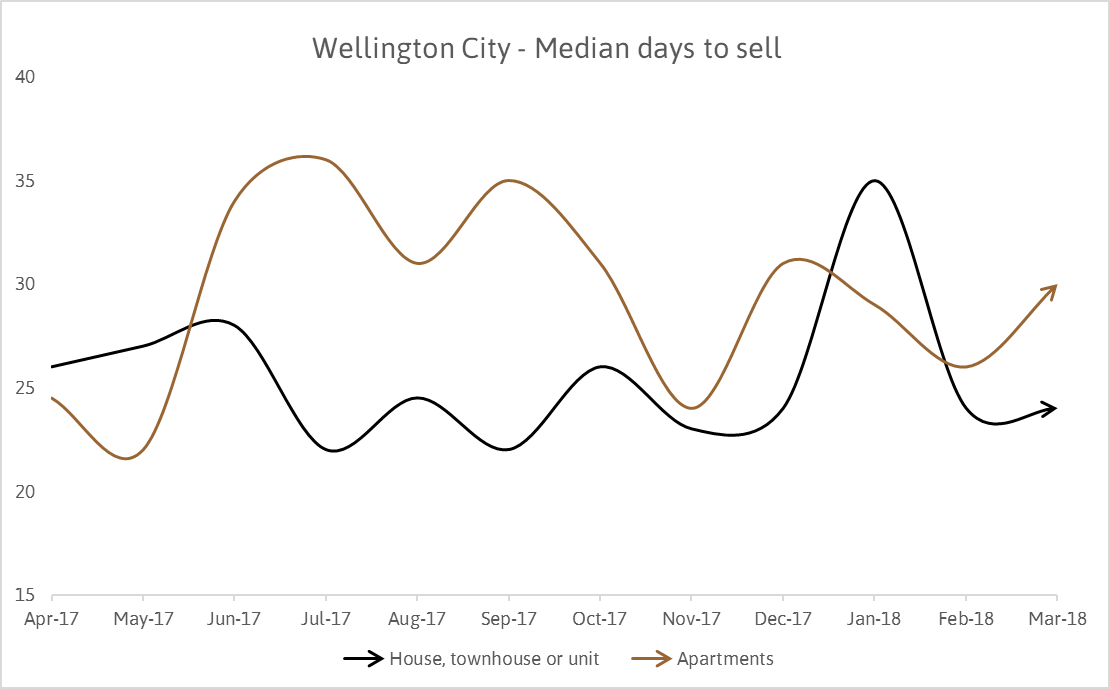 Still historically low. The only thing stopping these numbers from dropping further is the establishment of campaign selling strategies like Tender, Auction and Deadline Sale.
How are those Tenders tracking?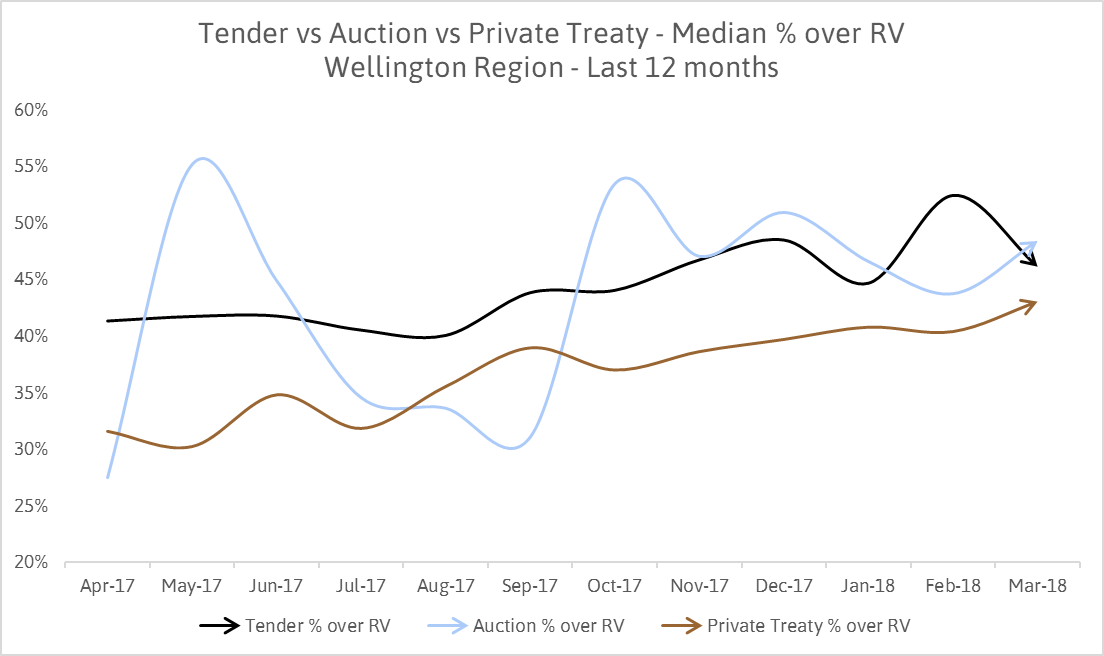 Auctions bounced back this month! Showing a median premium of 48% over RV.
Tenders slipped to 46% but there really isn't much in it. The key takeaway here is that there is an established premium for those properties that are able to attract buyers through one of these deadline processes.
Note: The 3rd category 'private treaty' includes everything that wasn't sold via Auction or Tender, including properties marketed with a price, BEO, deadline sale, by negotiation etc. This category will include properties that were originally marketed as Tenders or Auctions but didn't sell by the initial deadline. The median for these sales was +43% above RV, up 3 points from February and not actually too far behind the other methods!
What I'm watching going forward.
I keep hearing reports that the market is supposed to be slowing down. First home buyers don't seem to feel that way, however. The moment the market dips slightly there will be an army of buyers ready to jump in with both feet.
In addition, Winter in Wellington always brings about a drop in the number of properties that come on the market. Buyers have a smaller pool of houses to choose from which usually leads to some fortuitous results for sellers who are prepared to brave the cold weather.
If I was a buyer, what would I do?
I would stay open-minded to properties that don't initially appear to meet your needs. Could you put up with a slightly different location if it meant you got that double garage you've always wanted? Could you make do with an older house if you held some money back to add a Smartvent system or extra insulation?
Maybe it's worth considering a home that has fixable issues in its builder's report. It sure is hard to find the perfect house, but it's easy to find an older house that desperately needs some TLC.
Don't talk yourself out of offering just because you attend a busy open home either. Large visitor numbers don't always result in lots of offers, especially when work is required. Don't be afraid to give any property a shot, even if you think you might get blown out of the water. You don't know unless you try.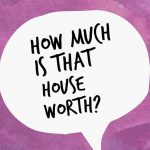 Read: How to work out the value of any property
If I was a seller, what would I do?
The best time of year to sell is coming right up! Winter traditionally favours sellers with warmable homes. You'll have less competition (in the form of other houses for sale) and this can work in your favour.
If your property gets a reasonable amount of sun and you have a heatpump (or better yet, a woodburner), then selling in Winter is an option for you. Allow yourself enough lead time to snag a sunny day for photos and if you are selling a soon-to-be-vacant investment property, consider investing in staging to make your home as inviting as possible.
---
Here's a tip: The stats show you should never sign up with a real estate agent for more than 60 days. Most agency agreements (the form you sign when you hire an agent) are for 90 days but you can negotiate this before you sign.
Read: Homeowners, don't sign until you've read the fine print.
Click here to subscribe to my newsletter and get early access to new articles
Thanks for visiting!