What effect does the election have on the Wellington real estate market?
REINZ figures show 210 sales for Wellington City in August. This was up 5% from the month before (199 sales in July) but down a whopping 27% from August 2016 (290 sales recorded).
So volume is down… Quite a bit!
To be fair, this is pretty typical, especially in Wellington where most potential sellers like to bide their time and hold on to their property until they know who is going to be running the show for the next 3 years. So we usually see less property going on the market and fewer sales as a result.
Back in August 2014 (leading up to the last election, which was Sep 20th, 2014) there were only 201 sales in Wellington City, so this drop in volume was to be expected.
This can often keep prices steady or push them up.
So was this the case in Wellington?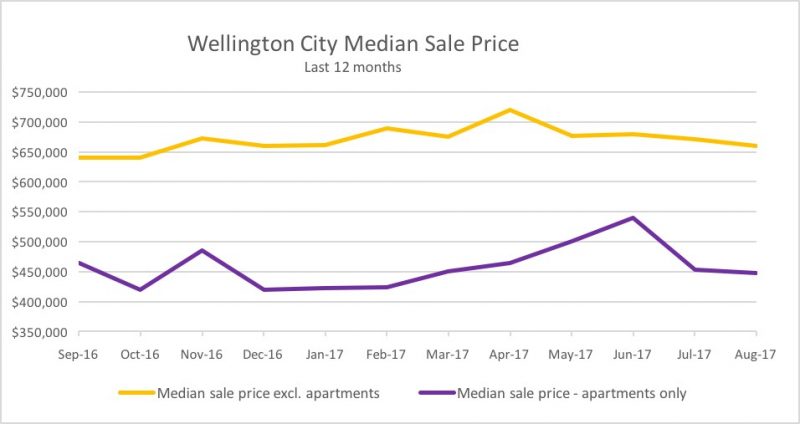 The median sale price for both houses and apartments came back slightly in August. Possibly continuing the 'changing market' trend we have been seeing since the peak in April/June of this year.
How accurate are Wellington Rateable Values?
Interestingly, the median % over RV has stayed very steady for non-apartments, a sign the market hasn't really moved that much.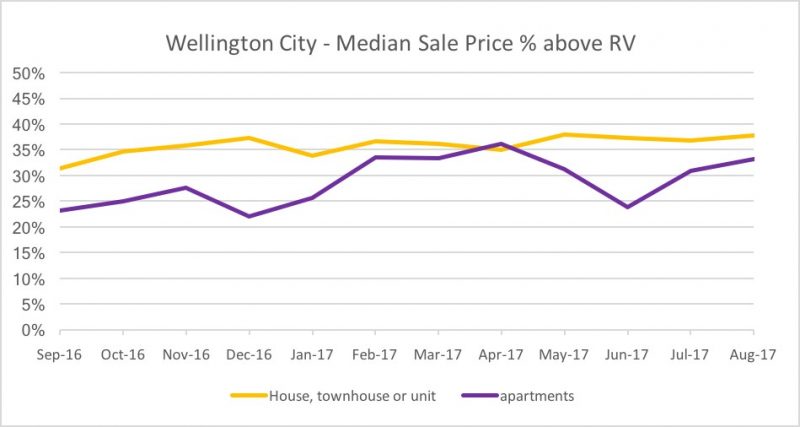 Surprisingly, when it comes to median % over RV, apartments have bounced back big time over the last 2 months – although the shortage of supply could be having an effect here. It will be really interesting to see what happens to these numbers over the next few months.
How long are properties taking to sell?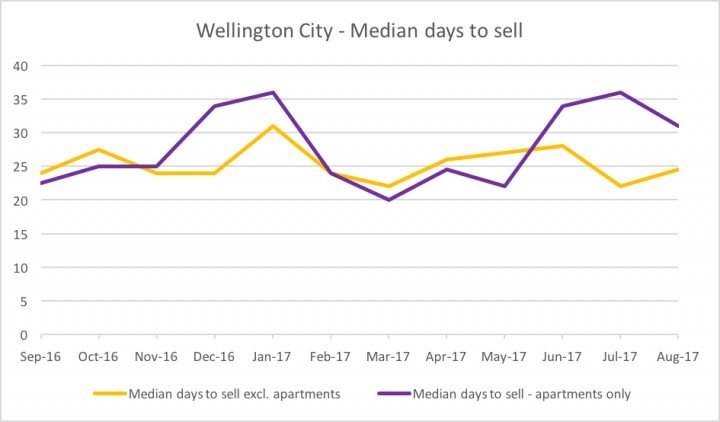 Reasonably steady here. Apartments had a bit of a recovery and everything else kept ticking along. Bear in mind that a 'median days to sell' figure of 24.5 days for non-apartments is a sign of a ridiculously strong market.
So how are those Tenders tracking?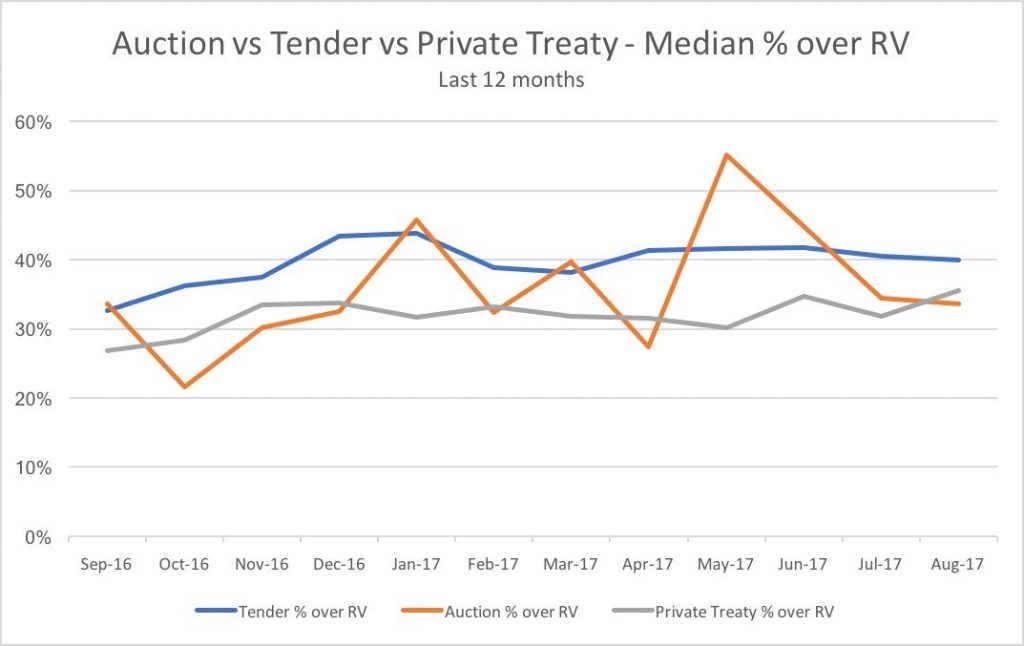 Tenders are still the most effective selling method (the median result being 40% above RV). Auction sales actually came in 3rd this month at 34% over RV, although all 3 categories are pretty close.
Note: The 3rd category 'private treaty' includes everything that wasn't sold via Auction or Tender, including priced, BEO, deadline sale, by negotiation etc. This category will include properties that were originally marketed as Tenders or Auctions but didn't sell by the initial deadline.
What I'm watching going forward.
Looking at the graphs above it is interesting how Median % over RV for apartments started to go down in May & June, while the median days to sell for apartments started increasing in June/July. I took that to be a sign that the apartment sector of the market was starting to slow down, signs you wouldn't see if you only looked at the median sale price (which increased in June) though this could be driven by more expensive apartments selling over the last few months.
These numbers started to recover in July & August but I worry whether they are being artificially held up by the shortage of volume pre-election.
The apartment sector in Wellington is the last to rise and the first to falter when the market moves. So I always look to those results as a barometer of what's to come. That's a big reason why I split the data in these graphs into 2 categories (apartments and everything else).
Could be a sign of changes ahead! Hang on to your hats come October.
If I was a buyer, what would I do?
I would be patient, if possible. We could see a stampede of properties hit the Wellington real estate market once people have some clarity on who's in charge. Wait to see if there is a flood of new listings which will give you a heck of a lot more choice.
Make sure you talk to a mortgage broker and get all your ducks in a row now in regards to finance. Get pre-approvals renewed if needed and keep saving and building up that deposit. Keep going to open homes and find out what properties you have visited have sold for (email the agents if you have to).
If I was a seller, what would I do?
First up, don't sell unless you have to. If I was to put my property on the market though, I would get in quick while there isn't much else available. That way you have less competition (and potentially more buyers focused on your property). I would definitely avoid leaving your run until late Nov if you can help it. Beat the rush if you can.
In fact, I would probably wait until early next year if possible. Let the dust settle on the election before you make your big move.
In conclusion…
The more information you have at your disposal, the more likely you are to make an informed decision. While timing the market perfectly is tricky, you can certainly take some factors into account when making a major real estate decision, and some principles always hold true. For instance, if you are planning on selling, make sure your first open home isn't on a long weekend, avoid school holidays if you can and try not to list your home around Christmas time.
For further advice, including agent recommendations, please send me an email.
Thankfully, the Wellington real estate market is usually pretty steady, it doesn't often experience big ups and downs. We are far too conservative for that! So make your move at a time that suits you best, not anyone else.
Stay safe out there everyone. Thanks for reading 🙂
---
PS. As an aside, was anyone else shaking their head at the fact that John Key just sold his Parnell Mansion for $20million to an off-shore Chinese buyer?
Way to go JK. You're obviously better at timing the market than you are at timing handshakes…