This would easily be the question I get asked the most, apart from of course, "How much do they want for this house?"
There is a common belief that Spring and Summer are the best times to sell but is this actually true? Are you really better off waiting till October or February to put your property on the market? Will you get a better price at different times of the year?
What if you're looking to buy? Will you end up picking up a bargain if you are prepared to put your house buying dream on ice until Winter?
I wanted to get to the bottom of this age-old question so I did what all people do when they come from a family that includes an economist and a mathematician… I looked at the stats and built some graphs!
I also googled how to spell 'mathematician' just to be sure.
First of all lets look at the how turnover effects prices at different times of the year:
When is the best time to sell?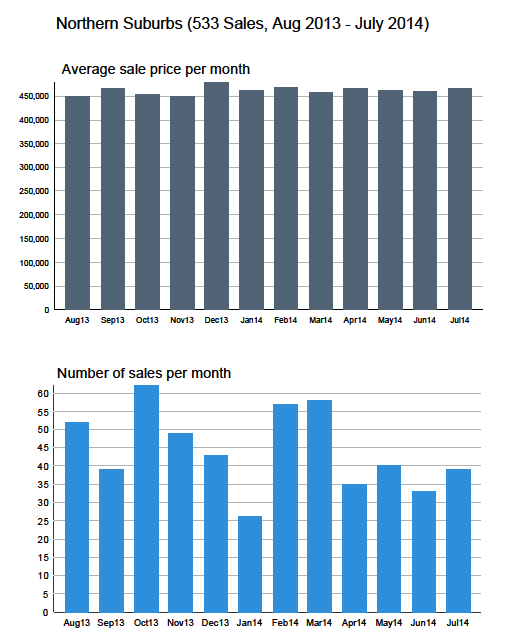 Source: REINZ Sales stats for Johnsonville, Newlands, Churton Park, Broadmeadows, Paparangi, Grenada Village & Woodridge. August 2013 – July 2014 (533 total recorded sales).
What we can see looking at the graphic above is that the number of house sales changes wildly from month to month and season to season, meanwhile the average sale price stays very level. Surprisingly so considering the vast differences in sales volume at different times of the year.
So where does this leave us? If sale prices stay relatively steady from month to month, is there any benefit to buying or selling at certain times of the year?
Before we come to any conclusions there is one more important stat to consider: Average time on the market…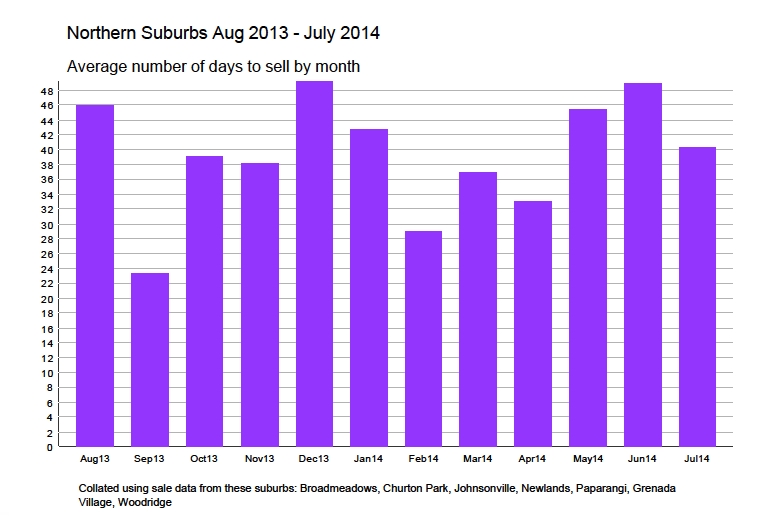 At first glance it appears that houses seem to be selling very quickly in September and February (at the beginning of Spring and Summer), while time on the market peaks for sales occurring in December and June. What isn't apparent at first sight is that those houses selling in September and February were likely put on the market in August and January, importantly getting a jump on their competitors by listing before the rush really sets in.
The longer sale time in December may be the result of too many owners leaving their run too late and trying to sell in November, once the market is already flooded.
Meanwhile the longer time to sell in June could be explained this way: Every Winter there is a shortage of properties available for sale so buyers are forced to look at and consider houses that have been on the market for 2 / 3 months or more. When these houses sell as a result, it pushes out the average sale time for that month.
What does this all mean for you?
Tips for buyers & Sellers:
If you are looking to buy…
1. Looking in Winter allows you to see a home at it's worst. If you like it on a freezing cold day with a howling southerly, getting pelted by hail as you run to the front door, chances are high you will like it in the middle of January too.
2. Apps like Sunseeker (available on iPhone and Android and essential for all buyers) allow you to see the sun aspect of a property, even when it's as grey as Glasgow outside.
3. It's obvious from the graphs above you will likely have a lot more choice of homes for sale in the warmer months. Although this can be quite a dangerous thing. For a lot of buyers too much choice results in 'paralysis by analysis'.
4. Sticking to Summer means you don't have to change out of your Snuggie and leave your nice warm house on a cold Winters day, although you might be surprised by how many people come to my open homes in their pyjamas (I am always secretly jealous).
If you are considering selling…
1. Try to beat the rush and avoid a lot of competition by putting your home on the market in September / October or January / February. Don't leave your run too late and end up in the pre-Christmas or end of Summer traffic jams.
2. Selling in Winter means you will have less competition in the form of other houses for sale. At this time of year effort needs to go into presenting a warm, comfortable, clean home. Lighting a fire or turning on the heatpump and having all the lights on for any viewing is essential.
3. Most owners feel that their home just looks better in Summer. More competition can mean a longer time on the market though which could mean 'gulp' even more open homes. Presentation is key anytime of the year but particularly in Summer. With more properties on the market you need to do everything you can, inside and out to make your home stand out from the crowd. You also need to make sure buyers feel compelled to visit your home in the first place so your marketing strategy becomes incredibly important. Top quality professional photographs are essential along with standout marketing on all the major property websites.
4. Avoid having your first open home on a long weekend or in the school holidays if possible as we tend to record lower open home visitor numbers on these weekends.
At the end of the day, my advice is to buy / sell at the time of year that suits you, your family, your job, your life. There will never be a perfect time, but at least this info might show you that the price should be fairly similar whichever time you choose.
Here are some recent articles that might interest you too…
5 questions to ask at every open home