"The coolest thing about Taiwan is that we were usually the only foreigners everywhere we went but no one treats you like a tourist.
And while the locals were always lovely and nice to us, they didn't expect anything from us since their economy isn't built on tourism.
Not one single person hit us up for money or tried to sell us a selfie-stick…"
---
We just spent a week in Taipei, the capital city of Taiwan and I have to say, it is one of my favourite destinations I have ever travelled to.
Before we left New Zealand, friends constantly asked us, "Why Taiwan?" as if it was a strange place to go and not the top of everyone's 'dream holiday destination' list. For us, it came down to the fact that my Brother and his family were going to be based there for 3 months working, allowing us the opportunity to spend a week in Taipei with our very own tour guides.
Better still, you can catch a non-stop flight to Taipei from Auckland!
We were blown away by the hospitality from the moment we arrived.
10 things we love about Taipei, Taiwan.
1. The people are ridiculously friendly.
Old ladies would smile at our child as he walked past and say nice things. Shop keepers were welcoming at every place we visited. Staff at restaurants were understanding as we made loads of noise and our child banged cutlery on the table, expecting the food to arrive instantly.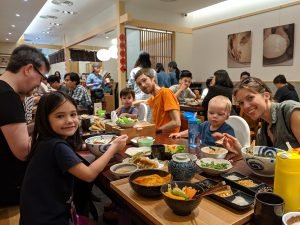 2. No one hits you up for anything.
After travelling in Europe and Egypt on our last big adventure we got used to saying 'no' to a lot of people. You get to the point in some countries where you try really hard to avoid looking like a tourist because you don't want to draw attention to yourselves and have to fend off a whole lot of hucksters trying to sell you tours / selfie-sticks / trinkets, or just plain up ask you for money.
In Taipei that was never a problem. The people are extremely polite. It feels like their economy is not built on tourism, so they don't see you as an economic opportunity when you travel there.
3. The vegan food is off the chain!
Our week in Taipei was a vegan food odyssey. Never before have I visited a city with so many enticing options for plant-based eaters. We were spoilt everywhere we went with exceptional quality food at very reasonable prices. We were often able to buy dinner at a quality restaurant for 5 adults and 3 kids for less than $150 NZD.
Favourite spots included: Plants, Hoshina, Soul R. Vegan, Flourish, Ooh Cha Cha, Nice Cream.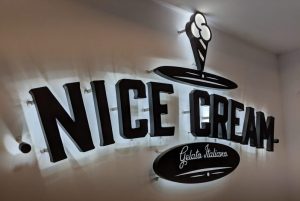 4. Taipei is easy to get around.
It's a flat city and the streets are largely on a simple grid system, so it's easy to get your bearings and easy to walk around. Smaller streets don't have footpaths but cars and mopeds drive slowly and people are very understanding/considerate when sharing the road with pedestrians. Most larger streets have covered walkways where you can hide from the rain if needed.
The subway system was easy to understand. We bought a card which you could load up with money and use to get on and off all busses and trains, essentially it works the same way as an Oyster card in London. Using this card, each subway trip cost around $1 NZD each way and each bus trip cost even less. Kids under 7 are free!
Normally I avoid catching a bus when travelling (I prefer subways) but in Taipei, the buses are regular, convenient and easy to understand. Using google maps we found catching a bus to often be a more effective way of travelling than catching the subway, which usually involved a lot of elevators when switching lines.
5. Eclectic little shops everywhere.
Around the same part of town as Nice Cream, (which serves the best ice-cream I have ever tried), is a very fun neighbourhood full of small independent shops. It feels like a bunch of young, entrepreneurial locals have all gone and started up their own businesses here. If you enjoy shopping but would rather avoid big chain stores and massive malls, then this is the area for you.
6. The night markets.
We visited the Shilin Night Market and could have stayed for hours if we didn't have a 1-year-old to get home to bed. It goes on for miles and the food is exceptional. There are plenty of vegan options too. If you have kids, I would recommend getting there when it opens, around 5 or 5:30pm and before it gets too busy! There is heaps of shopping here too.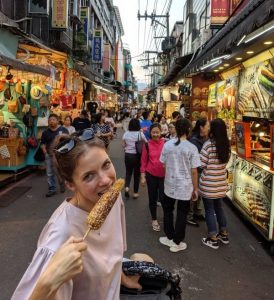 7. The weather is hard to beat.
We travelled to Taiwan in late May, welcomed by 30-degree sunshine nearly every day we were there. We found it to be pretty hot during the middle of the day so if you are going to be outside at that time of year, try and plan your activities for early in the morning or later in the day. If you have kids, it might be worth going slightly earlier in the year when it is a bit cooler.
It's hard to beat sunshine and no-wind when you come from Wellington though.
When it did rain, it was often heavy for short periods (30-60 minutes) before clearing. So take umbrellas and thin raincoats just in case.
8. The cost of living.
Taiwan is a really affordable place to travel. We could often buy spectacular dinners for less than $20 NZD each and I'm sure you could eat a whole lot cheaper if you wanted to at some of the famed road-side stalls and veggie buffet restaurants. We visited the zoo (apparently the largest in Asia) and the admission price was less than $3 NZD each.
The subway and bus are ridiculously cheap too.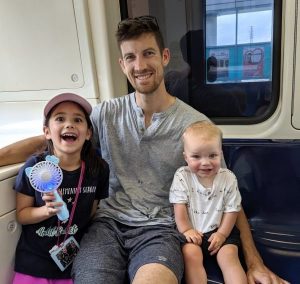 9. Everyone speaks English.
Are you worried about language? Feeling like your Mandarin is a little rusty or non-existent? We felt the same but were very surprised to learn that most shop owners and restaurant staff speak more than enough English to help you out. All you need to learn how to say is 'hello' and 'thank you' and you'll be good to go. Click here for a 'basic mandarin greeting' video on youtube.
10. The playgrounds.
The Taiwanese government are working hard to encourage their people to have more babies. There are public playgrounds every few blocks in the central city (seriously) and elevators are easy to find everywhere you go. We managed to go to a public play-centre too (there is one in every district) which was an incredible experience all in itself.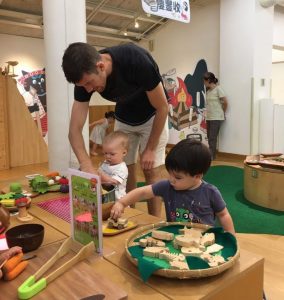 ---
One more fun thing about Taipei…
Their Rubbish trucks play the Mr Whippy song!
We heard that childhood tune playing as we walked down the street and thought, "Hey, do they have Mr Whippy in Taipei?" But no, this is the sound their rubbish trucks play to tell you it's time to bring out the trash.
Isn't that cool?