It often comes as a complete surprise to owners, that a real estate salesperson will ask them to pay not only their commission but a separate advertising bill on top (and up front). This real estate advertising program usually comes to thousands of dollars.
Which begs the one question that nearly every owner ponders at some point in the home selling process:
"If I am paying my agent this much money (usually 2-4% of the value of their home), then shouldn't they pay for the advertising?"
It's a fair question and one that, as an owner, can make you feel like you are getting royally rolled over.
Owners usually try to negotiate this point but can feel cornered and trapped in some respects. They are naturally keen to reduce their costs and lower their advertising bill as much as possible. Yet at the same time, they realise that you can't sell a secret. Properties often need marketing to secure a buyer and if you can attract multiple buyers, then your investment could pay off big-time.
Still, when you are already feeling stung by an impending commission bill that you have calculated will total anywhere from $10 – 30k (or more). No amount of 'extra' expenditure feels comfortable.
Are you getting screwed if you pay for real estate advertising?
It sounds illogical, but in my experience, good salespeople don't pay for their client's advertising. For 3 reasons:
They are usually carrying 5-10 listings at any one time. If your average advertising bill is $3k then as a salesperson you could have a cash flow shortfall or $15 to $30k at any one time. Most salespeople on a commission-only pay scale simply can't handle that kind of exposure.
In a typical market (even a hot one), you will often find that 20% of listings don't actually sell. Owners list their property for sale then change their mind. Sometimes offers aren't high enough to accept, sometimes divorcing couples get back together. Often there are building-type issues with the property that block a sale and result in the property being withdrawn. As a salesperson, it is hard to cover the advertising bill for each property when 20% of the time, you won't get paid back.
You might be surprised to discover that the majority of salespeople are on a 50/50 split with their office. So if your total commission bill is, say, $15k. The salesperson will see $7.5K of that on a good day. From that, they need to pay a multitude of costs, including printing, vehicle expenses, personal promotion, web-marketing, personal assistant expenses, damage control funds, software subscriptions (and tax, of course). The list goes on. When I was actively selling in Wellington it cost me $7k per month in fixed expenses to run my business. Costs that weren't covered by the office I worked from.
I'm not writing all this to make you feel sorry for salespeople. We are remunerated very well when everything goes to plan. My goal here is simply to shed some light and background on why owners are asked to pay for advertising, so you don't feel like you are getting screwed over next time you are asked!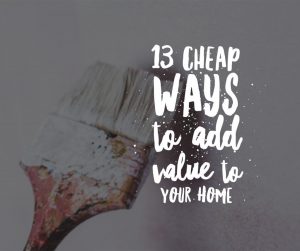 What other options do you have?
1. Take the 'free advertising' option…
Some companies advertise a 'free marketing' package to attract business. To some extent every real estate company has some level of 'free marketing'. This could include: Notifying their database, listing your property on their company website, taking the photos themselves (please don't), dropping flyers in your neighbourhood and a plain signboard.
While the cost saving can sound attractive, you need to closely examine whether this package will provide enough exposure to get the job done and give you the chance of achieving a premium price if the end result is important to you.
Read: How to find a home with little to no competition
2. List with an agent who agrees to pay for the advertising to win the listing…
Struggling salespeople will occasionally offer to 'foot the advertising bill' as a tactic to secure your business. This is a sure sign of a struggling agent who hasn't made a sale in some time. Be wary in this instance. If they haven't made a sale in a while they will be very hungry to get your property across the line. How much pressure do you think they will place on you to accept the first decent offer that comes along? They are unlikely to pursue a process that generates competition (like Auction, Tender) as this takes time and effort. They need to get a return on their investment as quickly as possible.
3. The Rebate
You determine a marketing budget with your chosen salesperson. If & when the property sells, you agree that this marketing amount will be deducted from the commission. If the property doesn't sell, or you choose to take it off the market, then you would still need to pay the bill, however. This approach is very common in Auckland, where the average commission is around $25 – $30k. It could be worth a try in other areas too though, especially for higher end properties.
4. Rebate with an incentive (recommended).
Same as the above, but you agree that if the salesperson secures a sale at a dream price, then you won't deduct the advertising from the commission.
As an owner, I wouldn't dare sell a home without the following marketing as a bare minimum:
Professional photos (preferably including drone shots and twilight shots for an up-market home).
Matterport virtual tour (available through Open2view and some other photographers for a few hundred dollars).
Floor plan (often provided by the photographer).
LIM & Builders report making it easy for buyers to complete their due diligence.
Feature listing on trademe.co.nz & realestate.co.nz
Targeted, boosted post on facebook.com of at least $100, preferably more.
Photo signboard.
Total cost for all the above should be under $2k.
Note: I can reduce the overall cost by swapping print marketing for digital (facebook, google). It's critical that you find a salesperson proficient in using these effective, measurable advertising mediums. I'll cover print vs digital marketing in more detail in a future post.
Ideally, I would also have:
A property video. Not just rolling still images but an actual video that is about the house, not the salesperson.
Google display network marketing. Particularly focussing on re-marketing your property to buyers who have already visited the listing online.
In conclusion…
Try not to focus on saving money right from the start. This might sound counter-intuitive but the best salespeople can add 5-10% to the value of your home and those salespeople usually aren't the cheapest option.
Focus on choosing the right person to get the job done, invest in a thorough marketing package (without going overboard) and the end result should take care of itself.
While you are here, check out:
9 Critical mistakes to avoid when selling your home
Negotiating tips for sellers (part 1)
How to avoid losing money when buying an selling real estate
How to choose an agent to sell your home